I'm so excited to start this trunk today for the DC Design House that benefits Children's Hospital! This old trunk is a goodies! Great for storage at the foot of your bed or behind a couch in your living room.
I was originally going to cover it in fabric or wallpaper but everything we liked was a bit pricey...until we found the perfect solution...a window panel from IKEA!
It's inexpensive, provides texture, and brings in that gray tone into the bedroom!
Here is the roll window panel from IKEA for $14.99! Before and After pics coming this week!
check out the other trunks I found that have been wrapped in alternate materials!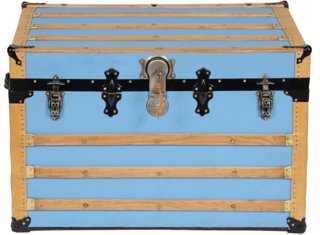 wrapped in heavy cotton fabric
As you can see the possibilities are endless to take an old piece and give it new life!!!!