I would like to welcome Jackie from Sweetie Pie Style! I love her blog and she has some great ideas...enjoy!
Happy Friday!!!
1.
What inspires you as a designer?
Well, I'm not a professional designer, but I do have a passion for it. I have so many inspirations, but the main ones would be the internet of course-sites such as other blogs, houzz.com and pinterest. I also take much inspiration from being a California girl-I love the beach which translates to a love of coastal and bohemian designs; I love the wine country and it's rustic country and Mediterranean feel. I am also inspired by vintage and antique shops-I believe every room needs a little bit of vintage in it and my home definitely reflects that. I have an etsy shop where I sell vintage home goods called"One Sweet Find". Some of my favorite designers are Tia Zoldan, Windsor Smith, Lulu DK.
2.
What is your favorite pattern/print currently?
3.
Where do you find your bargains? If so, what have you purchased recently that was a bargain find?
I can always find a good bargain at thrift and antique stores-those are my go-to places for an awesome find and deal. One of my favorite recent finds is abutterfly specimen display that I scored at an antique store for only $35. Comparable ones can retail in the hundreds! Other than that I am definitely a Target lover, an Ikea lover, a HomeGoods lover just like everyone else!
4.
What is your most proud DIY project? What inspired you to create a piece on your own/what inspired you to fix it up?
Well, thats a tough one, as I see my proudest DIY project to be in the future (planning on a kitchen re-do), but I guess it would have to be my canvas wall art, just because I had wanted to do it for so long and finally tackled it recently. I used an art piece seen in Molly Sim's apartment as my inspiration. The quote has a prominent place in our family room as a daily reminder.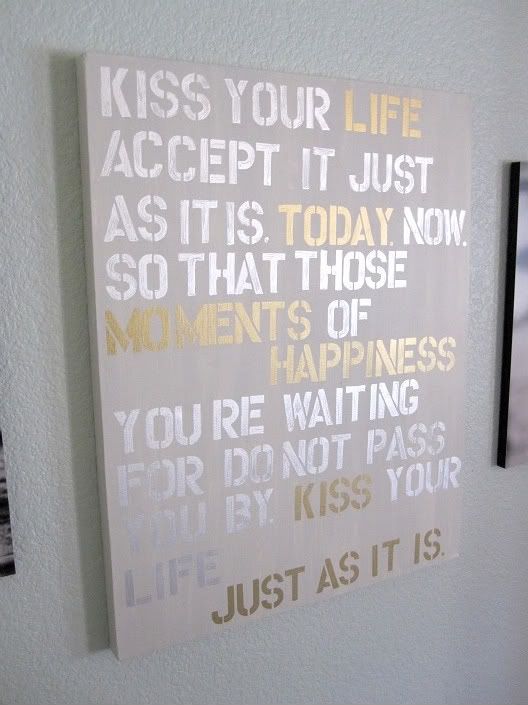 5.
Did you ever go to school to learn about design? If so where and what was the most important lesson you learned?
No formal schooling-I'm self taught. I would say the most important lesson I have learned is to only buy something if you really truly love it and/or it has some sort of meaning to you. I have wasted so much money on little items (pillows, lamps, etc) just because I felt like something new, and they always end up being the purchases I get tired of within months. If you make a well though out purchase it will usually withstand the test of time better than any impulse buy ever will.
Thank you so much for asking me to participate in this series Meaghan! Come visit me on my blog, Sweetie Pie Style anytime!